NOCTUA NH-D15 PREMIUM CPU COOLER (BROWN) WITH 2x NF-A15 PWM 140mm FANS
Built on the basis of the legendary NH-D14 and carrying on its quest for ultimate quiet cooling performance, Noctua's flagship model NOCTUA NH-D15 AIR CPU COOLER is an elite-class dual tower cooler for the highest demands. Its expanded heatpipe layout and two premium grade NF-A15 140mm fans with PWM support for automatic speed control allow it to further improve the NH-D14's award-winning efficiency. Topped off with the trusted, pro-grade SecuFirm2 multi-socket mounting system and Noctua's proven NT-H1 thermal compound, the NOCTUA NH-D15 forms a complete premium quality solution that represents a deluxe choice for overclockers and silent-enthusiasts alike.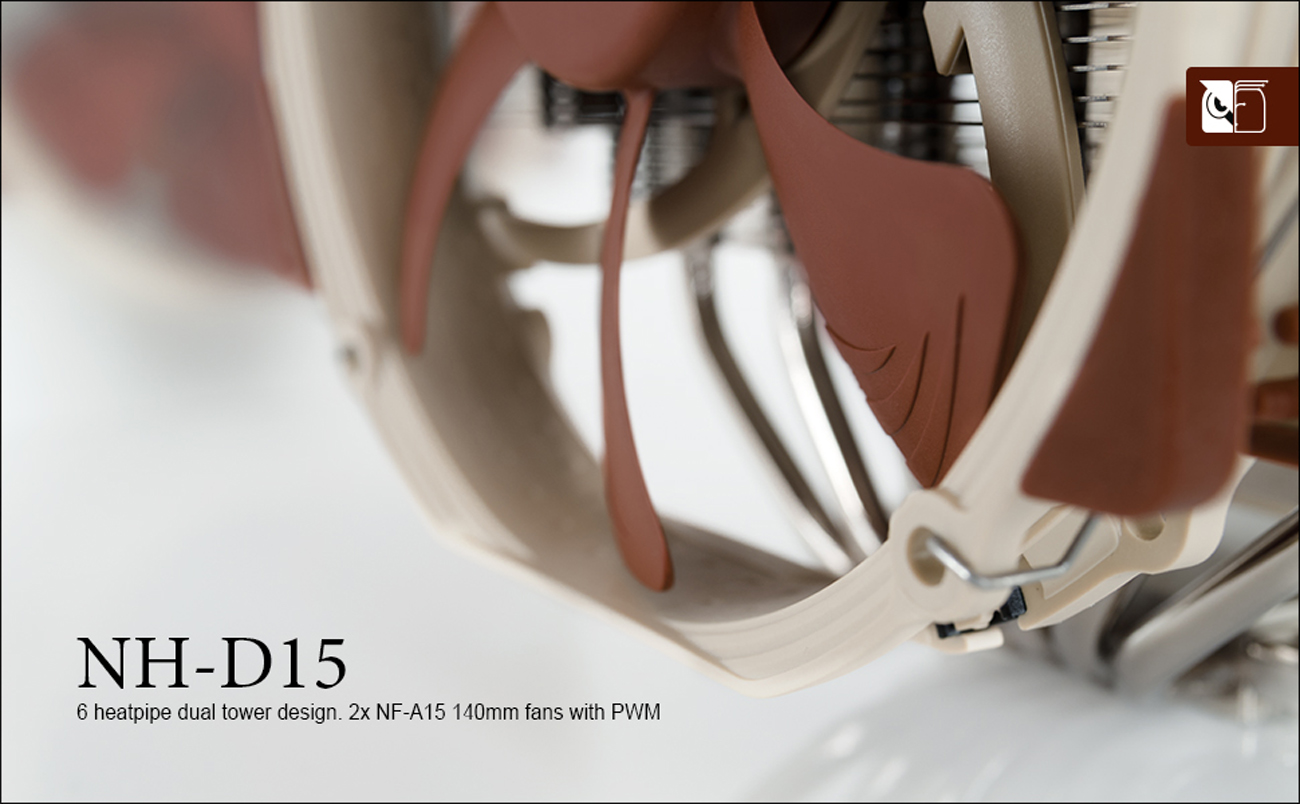 Based on the award-winning NH-D14
Noctua's NH-D14 has received more than 350 awards and recommendations from leading international hardware websites and magazines, making it one of the most successful premium heatsinks ever built. With its expanded layout and dual NF-A15 fans, the NH-D15 further improves the D14's much acclaimed quiet cooling performance.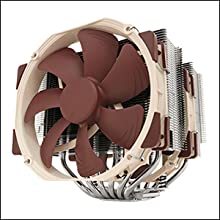 High RAM compatibility in single fan mode
Thanks to its recessed lower fins, the NOCTUA NH-D15 provides 64mm clearance for tall memory heatsinks in single fan mode, making it compatible with most high end RAM modules on the market. In dual fan mode, the NH-D15 should be used with standard height RAM (up to 32mm).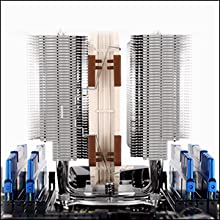 Dual NF-A15 140mm fans
The NOCTUA NH-D15 features two of Noctua's premium class NF-A15 140mm fans. Complying with Noctua's AAO standard and featuring sophisticated aerodynamic design measures such as Flow Acceleration Channels, the NF-A15 has quickly built up a reputation as one of the best 140mm fans on the market.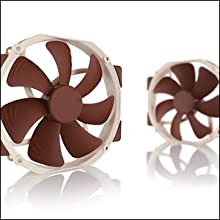 SecuFirm2 mounting system
Noctua's SecuFirm2 mounting systems have become synonymous with quality, safety and ease of use. Supporting Intel LGA1200, LGA115x (LGA1150, LGA1151, LGA1155, LGA1156), LGA2011, LGA2066 and AMD (AM4, AM3(+), AM2(+), FM1, FM2(+)), the SecuFirm2 mounting included with the NOCTUA NH-D15 ensures perfect contact pressure and maximum convenience on all current sockets.