Accessories, Gaming Mouse, Mouse
HyperX Pulsefire Haste 2 RGB Ergonomic Wired Gaming Mouse with 26000 DPI and 8000Hz Polling Rate
---
Ultra-lightweight 53g design
Precision HyperX 26K Sensor
8000Hz Polling Rate
Super-flexible HyperFlex 2 Cable
₹4,490
In stock
Compare
HyperX Pulsefire Haste 2 RGB Ergonomic Wired Gaming mouse With 26000 DPI and 8000Hz Poling Rate
Game at the speed of ultra-light.
The HyperX Pulsefire Haste 2 gaming Mouse is built for gamers who maximize every millisecond. Our designers optimized the original Pulsefire Haste to deliver a solid-shell sequel that performs brilliantly, but weighs just 53gm. Then our team built a high-performance HyperX suite of components, highlighted by the precision HyperX 26K Sensor which has a native DPI of up to 26,000 with a tracking speed of up to 650 IPS.
The HyperX Pulsefire Haste 2 features custom HyperX Switches that provide tactile, audible feedback on each satisfying click, and are rated for a lifespan of up to 100 million clicks. Get better responsiveness and accuracy with the Pulsefire Haste 2's 8000Hz polling rate.
You'll also enjoy superior physical control of your mouse with the included grip tape, a super-flexible paracord cable, and smooth, low-friction skates. Get the most out of every mouse movement with HyperX NGENUITY Software and program create macros for the 6 programmable buttons, customize your DPI settings, and personalize your RGB lighting.
Easier mouse movement for easier wins
Game at the speed of ultra-light with the HyperX Pulsefire Haste 2. Featuring a solid shell, but still weighing in at just 53g, it's designed to help you move quicker, game better, and feel less fatigue.
Incredibly precise HyperX 26K Sensor
Say hello to our HyperX 26K Sensor. It's capable of up to 26,000 DPI natively and can track at speeds up to 650 IPS. With that level of precision, making clutch plays has never been easier.
8000Hz polling rate for maximum performance
The HyperX Pulsefire Haste 2 reports in up to 8 times per millisecond. That's a signal every .125 MILLISECONDS. Ensure you never lose a one-on-one because of mouse input lag again.
Reduce cable resistance with the HyperFlex 2 Cable
HyperX built our super-flexible HyperFlex 2 Cable out of paracord material to facilitate smooth, free-flowing mouse movement and prevent cable snags in clutch situations.
Durable, Satisfying HyperX Switches
Rated for up to 100 million clicks, HyperX Pulsefire Haste 2 mouse switches provide solid tactile and audible feedback on every satisfying click.
Low-friction skates for smooth, effortless gliding
Mouse movement is a breeze when you combine the Pulsefire Haste 2's ultra-light weight with its smooth, low-friction skates.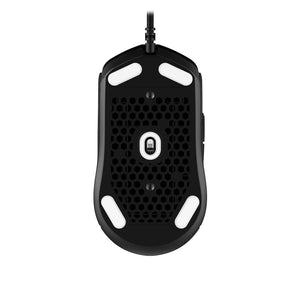 Included grip tape for secure, customizable grip.
4 pieces of custom no-slip HyperX Grips are provided for left and right mouse buttons and the left and right sides of the mouse.
Customizable with HyperX NGENUITY Software
Get the most out of every mouse movement. HyperX NGENUITY Software can set macros and binds for the 6 programmable buttons, customize DPI levels, and set RGB lighting.
  Mouse Specifications
 Shape
 Symmetrical
 Sensor
 HyperX 26K Sensor
 Resolution
 Up to 26000 DPI
 Speed
 650 IPS
 Acceleration
 50G
 Buttons
 6
 Left / Right Button Switches
 HyperX Switch
 Left / Right Button Durability
 100 million clicks
 Light Effects
 Per-LED RGB lighting
 Onboard Memory
 1 profile
 Connection Type
  Wired
 Polling Rate
 Up to 8000Hz
  Physical Specifications
 Length
 124.3mm
 Height
 38.2mm
 Width
 66.8mm
 Weight
  Weight (without cable): 0.11lb; Weight (with cable): 0.16lb
 Cable Type
 HyperFlex 2
 Cable Length (imperial) and type
 5.9 ft | HyperFlex 2
 What's Included in the Box
 HyperX Pulsefire Haste 2, HyperX Grips, Low-Friction Skates, Quick Start Guide
 Warranty
 2 Years
Brand
HyperX
HyperX's mission has been to develop gaming products for all types of gamers – headsets, keyboards, mice, charging accessories for console players, and mousepads – for the gaming community and beyond. The award-winning HyperX brand is known for consistently delivering products that provide superior comfort, aesthetics, performance, and reliability. HyperX gear is the choice of celebrity ambassadors, pro gamers, and tech enthusiasts worldwide because it's designed by people with a passion for gaming. We've shipped over 20 million gaming headsets, one million keyboards and one million microphones worldwide, and don't plan on slowing down. Join the global #HyperXFamily and learn how HyperX products can enhance your console experience and boost performance for both you and your PC, console or mobile device. Whatever your skill level, whatever genres you play, however you play, we embrace all gaming enthusiasts everywhere with our core belief — We're All Gamers.