CRUCIAL 16GB 4800MHZ DDR5 SODIMM LAPTOP MEMORY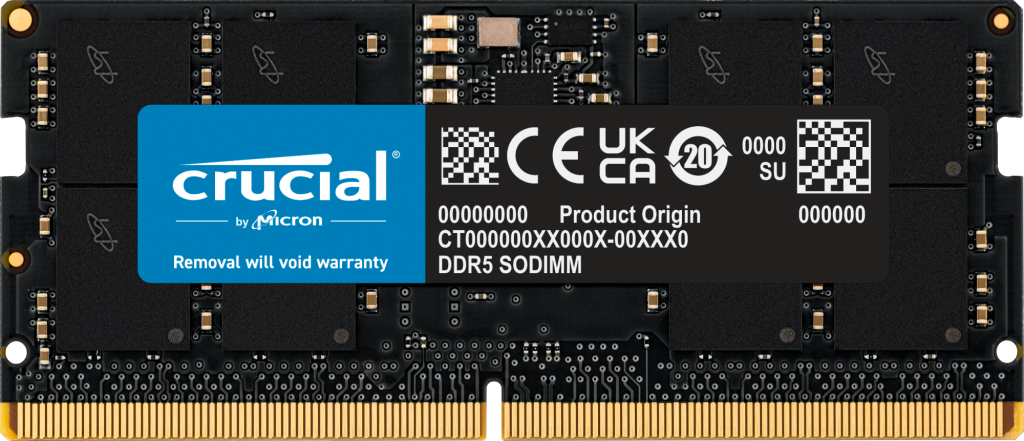 CRUCIAL 16GB 4800MHZ DDR5 Responsive multitasking on the go
CRUCIAL 16GB 4800MHZ DDR5 offers 50% faster speeds than DDR4 at launch4, empowering laptop users with extreme performance right out of the box. Even more impressive, Crucial DDR5 Laptop Memory is optimized for enhanced
Improved productivity with innovative channel architecture
Significant improvements to DDR5 channel architecture can help you get more work done in less time. With nearly 2x the bandwidth of DDR4, enabled by faster speeds, longer burst lengths, twice the banks and bank groups, two 32-bit channels, and improved refresh schemes, CRUCIAL 16GB 4800MHZ DDR5 still outperforms DDR4 with higher latency numbers8.
Optimized power efficiency
For improved efficiency and stability, CRUCIAL 16GB 4800MHZ DDR5 introduces on-module voltage regulation with a power management integrated circuit (PMIC), which was on the motherboard with older memory technologies. This results in improved signaling and cleaner power regulation for the modules (SODIMMsƣ. Moreover, DDR5's on-module operating voltage is only 1.1V compared to DDR4's 1.2V.
Micron quality – tested reliability you can trust
As the vertically integrated consumer brand of Micron, Crucial is trusted by millions for reliability, performance, and compatibility. Unlike module assemblers, our unique relationship with Micron involves a deeper level of engineering collaboration to squeeze every ounce of performance from our products without compromising reliability. With Micron's 43+ years of manufacturing excellence and Crucial's 25+ years of consumer product development, CRUCIAL 16GB 4800MHZ DDR5 is backed by our limited lifetime warranty and delivers the powerful performance you can trust. When it comes to memory, don't settle for less.