ASUS ROG STRIX Z690-E GAMING WIFI INTEL 12TH GEN LGA1700 MOTHERBOARD
ASUS ROG Strix Z690-E GAMING WIFI Intel LGA 1700 ATX gaming motherboard, 18+1 power stages, DDR5, PCIe® 5.0, M.2 Combo-Sink, WiFi 6E, 2.5 Gb Ethernet, five M.2 with ROG hyper M.2 card, and Aura Sync
ALL ROUND PERFORMANCE
ROG STRIX Z690-E GAMING WiFi motherboard is armed with all the essentials you need to create a gaming PC with top-tier performance. Heavy-duty power delivery and optimized cooling provide the weapons you need to push any gaming build to its limits. Intelligent controls enable easy management of overclocking, cooling and networking settings. And Two-Way AI Noise Cancelation helps ensure crystal-clear in-game communication
POWER DESIGN
Digital power control and an array of power stages provide the muscle needed to control the latest Intel CPUs.
Power Stages
ROG STRIX Z690-E GAMING WiFi comes with 18+1 power stages combine high-side and low-side MOSFETS and drivers into a single package, delivering power and efficiency that the latest Intel processors can take full advantage of.
Alloy Chokes and Durable Capacitors
ROG STRIX Z690-E GAMING WiFi has High-end chokes and durable capacitors are engineered to resist extreme temperatures, enabling performance that exceeds industry standards.
8+8 Pin ProCool II Power Connector
ASUS ProCool II connectors are built to tight specifications to ensure full contact with power supply cable wiring. A metal sheath improves heat dissipation, and low electrical impedance helps prevent hotspots and bolsters reliability.
Digi+ Power Control
ROG STRIX Z690-E GAMING WiFi  Digi+ voltage-regulator module (VRM) is one of the finest in the industry, ensuring ultra smooth and clean power delivery to the CPU.
Eight-Layer PCB
Multi-layered printed circuit board design quickly dissipates heat around the voltage regulators to improve overall system stability and provide the CPU with more overclocking headroom.
COOLING
Integrated I/O Cover & VRM Heatsinks
ROG STRIX Z690-E GAMING WiFi has Two thick VRM heatsinks connected by a heat pipe and bonded to a pre-mounted metal I/O shield provide ample surface area and mass to handle the power needs of high-performance 12th Gen Intel processors.
Thermal Pads
High-grade thermal pads efficiently transfer heat from the inductor and phase array to the heatsink.
M.2 Combo-Sink
ROG STRIX Z690-E GAMING WiFi has An M.2 heatsink with a direct-contact heat pipe delivers ample surface area, enabling optimal running temperatures for PCIe 5.0 M.2 NVMe drives, even when airflow is restricted.
Three M.2 Heatsinks
The M.2 heatsinks keep the M.2 SSD at optimum operating temperature for consistent performance and reliability.
M.2 Backplate
An integrated M.2 backplate helps ensure that high-performance drives deliver peak performance, even when airflow is restricted.
INTELLIGENT CONTROL
TWO-WAY AI NOISE CANCELATION
This powerful ASUS-exclusive utility leverages a massive deep-learning database to reduce background noise from the microphone* and incoming audio while preserving voices.
Distracting keyboard clatter, mouse clicks and other ambient noises are removed so you can hear and be heard with perfect clarity while gaming or during calls.
*A splitter cable is necessary when using a 3.5 mm headset.
AI OVERCLOCKING
ROG AI Overclocking is an intelligent utility that helps you get the most out of your build by automatically profiling your CPU and cooling system to predict optimal voltage and frequency settings.
ROG STRIX Z690-E GAMING WiFi is Accessible via the AI Suite software in Windows or directly through the UEFI, the intuitive AI Overclocking user interface enables users of all levels.
A range of customizable settings are available for seasoned overclockers, and an auto-tuning option is available for beginners.
AI Overclocking at a Glance
Designed by experts
At the heart of AI Overclocking is a proprietary algorithm developed by ROG R&D engineers who worked with world-renowned overclockers to create a tool for users of all levels.
Predictive edge
An algorithm analyzes your CPU and cooling system, then it leverages that data to intelligently predict optimal settings. Custom-tailored frequencies and voltages are automatically applied to perfect the clock-speed optimization process.
Real-time adjustments
Workload, system temperature, fan speed and power draw are automatically monitored by the software, and the information is used to make real-time adjustments to ensure ongoing optimal performance.
AI overclocking in AI Suite
Onboard intelligence lets you automate overclocking with full, flexible control via 5-Way Optimization within AI Suite (in Windows).
AI Overclocking Guide
The AI Overclocking Guide provides detailed information and instructions about how to tune your system manually. It can be accessed by hitting the F11 hotkey.
Core group loading
For the high-core-count processors in the Z690 series, AI Overclocking software lists data according to core group. This gives you adaptive control based on the status of core groups, and it provides target frequencies and voltages needed for manual tuning.
AI NETWORKING
ROG STRIX Z690-E GAMING WiFi comes with proprietary ROG GameFirst VI utility is designed to help all users — beginners, experts, and everyone in between — optimize network settings to ensure smooth online gameplay. New to this generation, GameFirst VI features AI-enhanced identification and boost technologies to ensure faster and smarter network optimization.
How it Works
Identification
GameFirst VI analyzes usage patterns and the digital signatures of your applications and compares them to a database of over 200,000 apps.
Boost
GameFirst VI intelligently switches application priority and adjusts bandwidth, depending on the situation. When gaming, it accelerates and prioritizes game packets to give you super smooth online gameplay ― even when you're streaming high-quality video or transferring large files.
Visualization
An intuitive graph provides an overview of real-time network status. Simply click on the tab to view the current bandwidth usage of each application, geolocation status of each network connection, or an analysis of the WiFi channels.
What it Does
Network Insight
WiFi Quick Assist analyzes network information and generates a graph to give you a clear picture of current network status. In addition, when paired with an ROG router, you can scan your WiFi network to find the best channel and use Game Boost to prioritize gaming devices and packets.
Gaming First Mode
Gaming First mode leverages a massive application database and an analysis of your frequently used apps to prioritize gaming network traffic. This reduces jitter and decreases ping to give you lag-free online gaming.
Adaptive Intelligence
GameFirst VI notes what you're currently doing and adjusts bandwidth accordingly to ensure smooth online experiences, even when multitasking.
LEADING CONNECTIVITY
PCIe Performance
ROG STRIX Z690-E GAMING WiFi With one PCIe 5.0 M.2 slot delivering twice the speed of PCIe 4.0, two additional slots with PCIe 4.0, and two more 4.0 slots available on the bundled ROG Hyper M.2 Card, ROG STRIX Z690-E GAMING WiFi leverages mighty CPU and chipset bandwidth to deliver the latest data transfers, Intel NVM Express® RAID, and high-capacity drive options that blaze past traditional SATA-based SSDs.
ROG Hyper M.2 Card
The ROG Hyper M.2 Card provides two additional PCIe 4.0 M.2 slots for storage-hungry users, and its huge aluminum heatsink and backplate provide excellent cooling to optimize M.2 drive performance.
DDR5 Overclocking strength
Comprehensive memory tuning options are the cornerstone of ROG motherboards. For DDR5, the ROG STRIX Z690-E GAMING WiFi breaks performance limits with a stacked suite of overclocking parameters for both high-speed kits and entry-level memory modules that have a locked power management integrated circuit (PMIC)
A dedicated circuit on the motherboard safely circumvents DDR5 memory PMIC restrictions, allowing users to sidestep the default 1.1-volt limit and push frequency and timings to the max.
Ordinarily, a restricted PMIC that has been unlocked requires the system to be fully power-cycled each time memory voltage is adjusted.
ROG motherboards leverage special onboard hardware and firmware to cleverly work around this irksome limitation, enabling voltage adjustments to be applied through the same soft system-reset process employed for previous generations of DDR memory.
New to memory overclocking? ASUS Enhanced Memory Profile (AEMP) is an exclusive firmware feature for PMIC-restricted memory modules.
ROG STRIX Z690-E GAMING WiFi AEMP automatically detects the memory chips on a kit and then presents optimized frequency, timing and voltage profiles that can be effortlessly applied to unleash performance.
NETWORKING
Wifi 6E(802.11 ax)
ROG STRIX Z690-E GAMING WiFi Onboard WiFi 6E technology takes advantage of the newly available radio spectrum in the 6 GHz band. It provides up to three times the bandwidth of the 5 GHz band and up to seven 160 MHz bands to deliver ultrafast wireless networking speeds and improved capacity as well as better performance in dense wireless environments.
*WiFi 6E availability and features are dependent on regulatory limitations and co-existence with 5 GHz WiFi. Learn more about the ASUS WiFi 6 ecosystem.
WiFi 6E antenna
The antenna has two built-in transmitters and receivers to enable faster transmission speeds, and it supports the 2.4, 5 and 6 GHz bands.
Adjustable design
Four-way positioning enables better signal reception.
Magnetic base
A powerful magnetic base secures the antenna on the top or side of the PC case.
Intel 2.5Gb Ethernet
Onboard 2.5 Gb Ethernet gives your wired connection a boost, delivering up to 2.5X the speed of standard Ethernet connections for faster file transfers, low-lag gaming and high-resolution video streaming.
AUDIO
SupremeFX
ROG SupremeFX is a unique blend of hardware and software that provides superior audio. In ROG Strix Z690-E Gaming WiFi, SupremeFX features the ALC4080 codec to increase playback resolution from 192 kHz to 384 kHz across all channels.
The front-panel output is streamed through a highly integrated Savitech amplifier that's capable of driving of a wide variety of gaming headsets and high-fidelity headphones.
Audio chip shield
A specially crafted metal cover protects against ambient electromagnetic interference, preserving the integrity of audio signals to ensure the best sound quality.
Audio path isolation
Specially designed circuit separation filters out electromagnetic interference from the motherboard and anything directly attached to it.
Savitech SV3H712 amplifier
The integrated Savitech amplifier greatly improves THD+N performance from 72 to 83 dB, cleaning up distortion and noise for a clean, pristine sound.
Premium Audio Capacitors
High-quality components produce a warmer, more natural sound with exceptional clarity and fidelity.
Sonic Studio
ROG Sonic Studio supports HRTF-based (head-related transfer function*) virtual surround for VR headsets, casting an immersive aural landscape that draws you deeper into the action.
The intuitive Sonic Studio interface also offers a range of EQ options and one-click presets, allowing you to tailor acoustics to suit personal preferences or the characteristics of your headset.
App-Specific Profiles
Apply customized audio settings to various applications, so that each is perfectly tuned to the way you want to listen.
Sonic Studio Virtual Mixer
Combine audio output from selected apps with audio from the microphone input and stream the compiled mix.
DTS: Sound Unbound
ROG STRIX Z690-E GAMING WiFi motherboard is pre-loaded with the DTS® Sound Unbound™ app that envelops you in audio as never before, conjuring whole new levels of immersion for extraordinary gaming and entertainment experiences.
By leveraging Windows Sonic spatial technology, DTS Sound Unbound delivers audio in a virtual 3D space — putting you right in the middle of the soundscape, where you can sense the location and direction of every gunshot, footstep or other sound in your virtual environment.
* DTS Sound Unbound requires in-game support. Check with game developers for supported titles.​
Stereo Sound
Discrete left and right audio channels enable headphone or two-speaker setup.
Surround Sound
Audio is split and served over multiple speaker channels – e.g. 5.1 or 7.1 – to create an enveloping experience on a single, logical plane.​
Spatial Sound
A virtual audio 'sphere' effect creates astonishing 360° immersion – with you at the center, where sounds seem to travel in all directions.
OPTIMIZATION
UEFI BIOS
The renowned ROG UEFI (BIOS) provides everything you need to configure, tweak, and tune your rig. It offers intelligently simplified options for newcomers to PC DIY, as well as more comprehensive features for seasoned veterans.
Advanced Mode
MemTest86
For added convenience, MemTest86 has been pre-installed into ROG UEFI (BIOS) Run the test to pinpoint memory issues with just one click, without the need for any USB stick or going into the OS. The memory report will also be stored in the BIOS archives for reference.
Advanced Mode
When you're ready for a deeper dive into the configuration of your system, delve into the UEFI's Advanced mode and take complete control. Each section is intuitively organized, and a built-in search feature makes it easy to find the options you need. Advanced functions are coded with the intelligence to adapt to your settings, and when you're ready to take charge, parameters have the granularity to dial in performance just the way you want.
EZ Mode
ROG STRIX Z690-E GAMING WiFi Designed to simplify setup, EZ mode presents vital settings and stats on a single page. With guided wizards, drag-and-drop functionality, and one-click application of important settings, your rig will be up and running in no time.
My Favorites
Quickly find tuning options and add preferred tools to the list.
EZ Flash 3
Flash the latest BIOS from within the BIOS.
SMART
Check your storage device Self-Monitoring, Analysis, and Reporting Technology logs to gauge reliability and identify potential failures.
Secure Erase
Restore your SSDs and NVMe storage to factory settings.
Last Modified Log
Track the last change and save preferred profiles to a USB drive.
SATA Port Renaming
Rename SATA ports for easy identification.
User Profile
Port configuration settings between different BIOS versions or share them with friends.
Q-Fan Control
Configure the fan's operating speed manually or use pre-configured fan profiles to quickly select Standard, Silent, Turbo or Full Speed modes. By default, system fans will automatically switch to full speed if the temperature reaches 75°C.
5-Way Optimization
ROG STRIX Z690-E GAMING WiFi has The renowned ROG UEFI (BIOS) provides everything you need to configure, tweak, and tune your rig. It offers intelligently simplified options for newcomers to PC DIY, as well as more comprehensive features for seasoned veterans.
TPU INSIGHT
The TurboV Processing Unit (TPU) provides AI Suite 3 with the intelligence needed to automatically fine-tune voltages, monitor system stats, and adjust overclocking settings.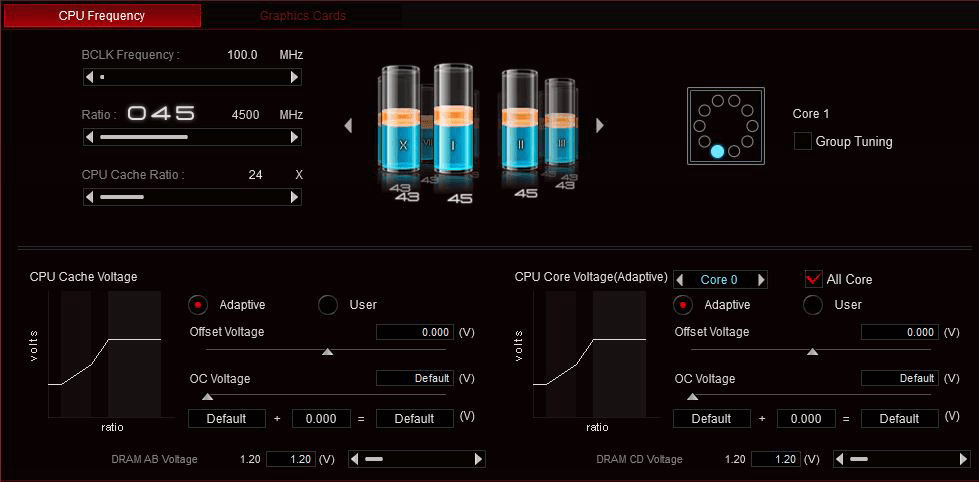 EPU Guidance
With the Energy Processing Unit (EPU), you'll enjoy system-wide power savings. The EPU automatically optimizes power consumption and maximizes savings with Away mode.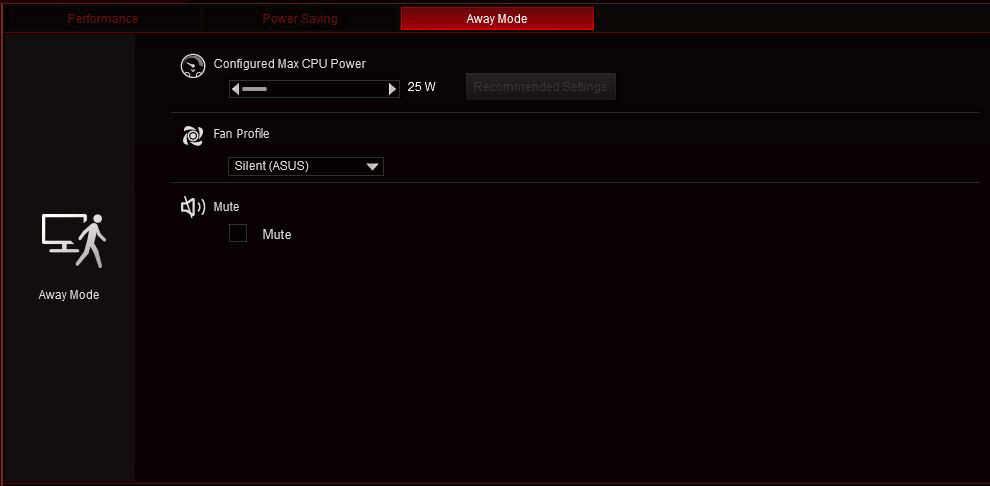 Fan Xpert 4
Fan Expert 4 provides comprehensive control over fans, water pumps and all-in-one (AIO) coolers. Control is also possible via the award-winning ROG UEFI.
Whether you're cooling with air or water, Auto-Tuning mode intelligently configures all parameters with a single click.
There's also an Extreme Quiet mode, which reduces all fan speeds to below the default minimum to keep your system whisper-quiet when performing light tasks.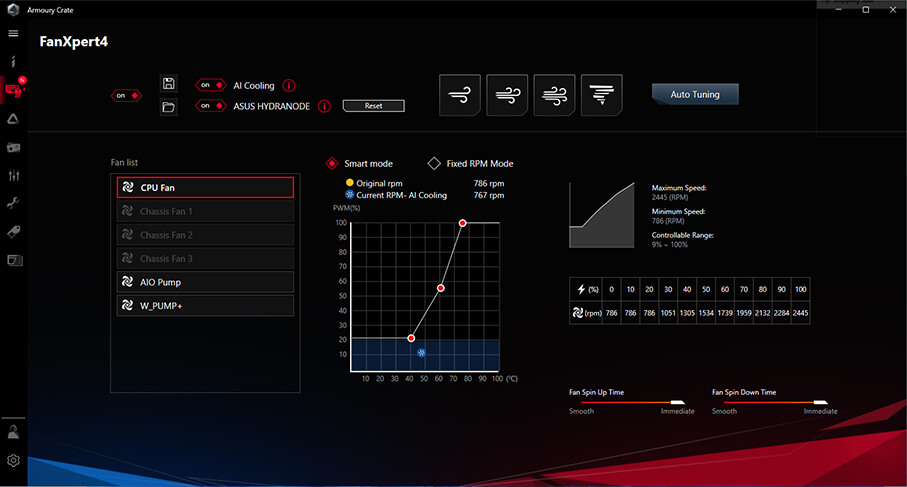 Digi+ Power Controls
The Digi+ voltage-regulator module (VRM) delivers real-time control over voltage droop, allowing you to switch frequency and power-efficiency settings so you can fine-tune CPU voltage regulation for ultimate stability and performance.
Turbo App Define CPU overclocking, apply fan profiles, prioritize network data, optimize audio settings at app level, and more ― all with this intuitive tool.
TURBO APP
Define CPU overclocking, apply fan profiles, prioritize network data, optimize audio settings at app level, and more ― all with this intuitive tool.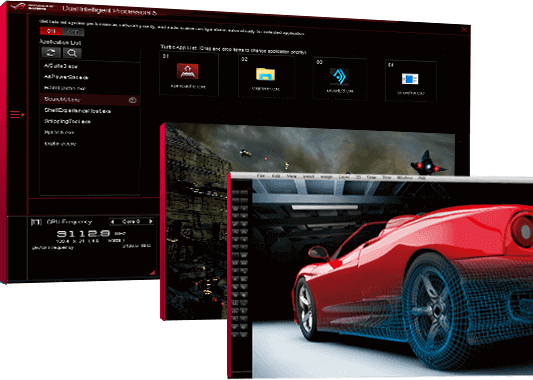 ARMOURY CRATE
Armoury Crate is a software utility designed to give you centralized control of supported gaming products, making it easy to tune the look and feel of your system.
From a single intuitive interface, Armoury Crate helps you customize RGB lighting and effects for compatible devices and synchronize them with Aura Sync to create a unified lighting scheme across your system.
In addition, Armoury Crate's Fan Xpert4 tool provides comprehensive control over fans, water pumps and all-in-one (AIO) coolers.
You can also use Armoury Crate to download drivers, software and user manuals, register products, and tap into a special news feed that connects you to the global ASUS gaming community.