Air Cooler, Cooling Systems
DEEPCOOL AK500 ZERO DARK 120MM CPU AIR COOLER WITH PWM FAN
Availability:
Out of stock
---
₹6,999
Out of stock
Compare
DEEPCOOL AK500 ZERO DARK 120MM CPU AIR COOLER WITH PWM FAN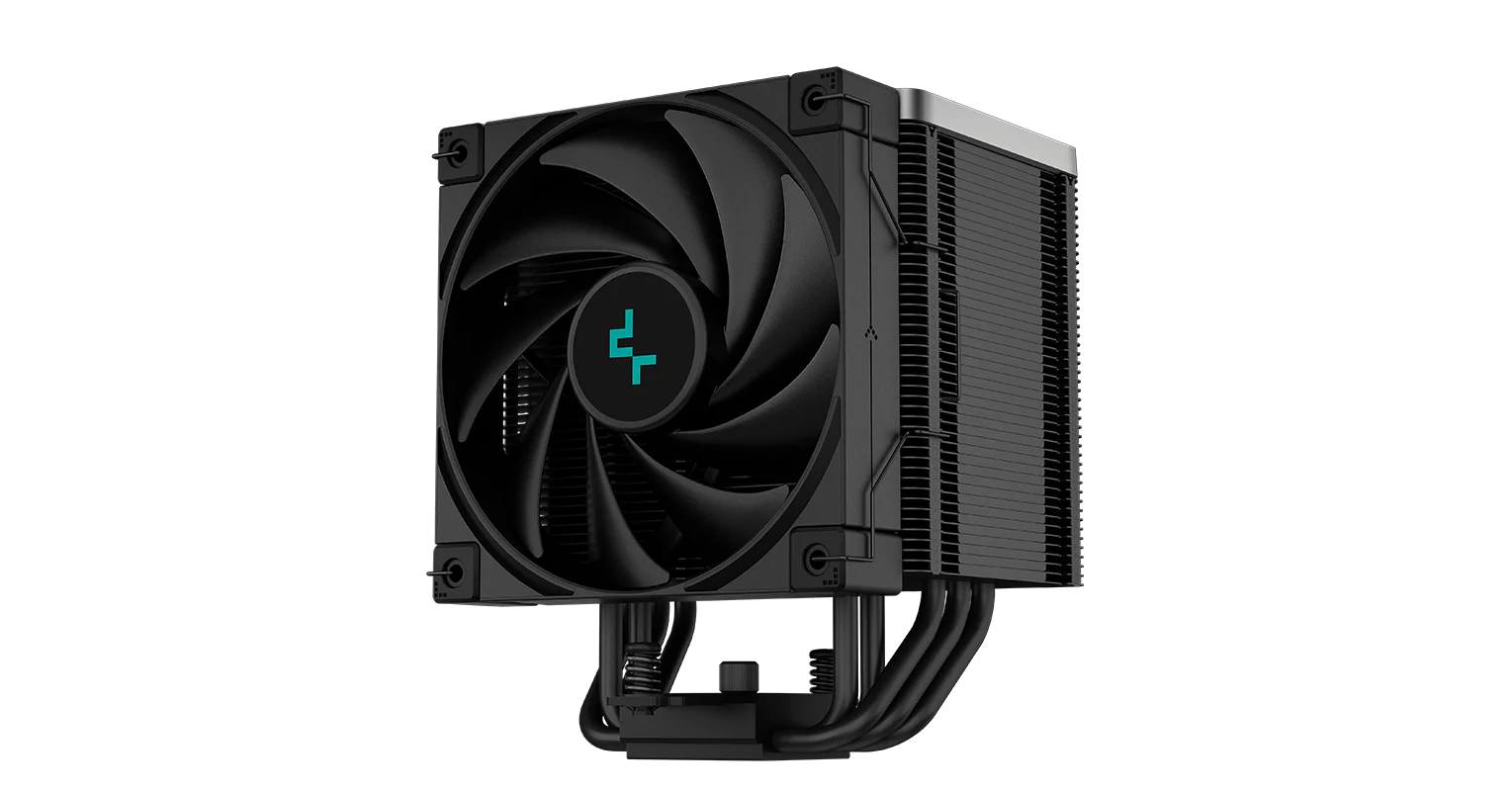 AK500 ZERO DARK
The DEEPCOOL AK500 ZERO DARK is a high-performance single tower CPU cooler that maximizes cooling potential with a large heat sink, five advanced heat pipes, and a highly efficient 120mm FDB fan
Prime Performance
Keep up with massive performance gains thanks to dominant cooling capacity from the DEEPCOOL AK500 ZERO DARK boasting 240W of heat dissipation power to manage next generation processors. Tackle 4K gaming or high processing workloads knowing that your system is sufficiently cooled and performing at its peak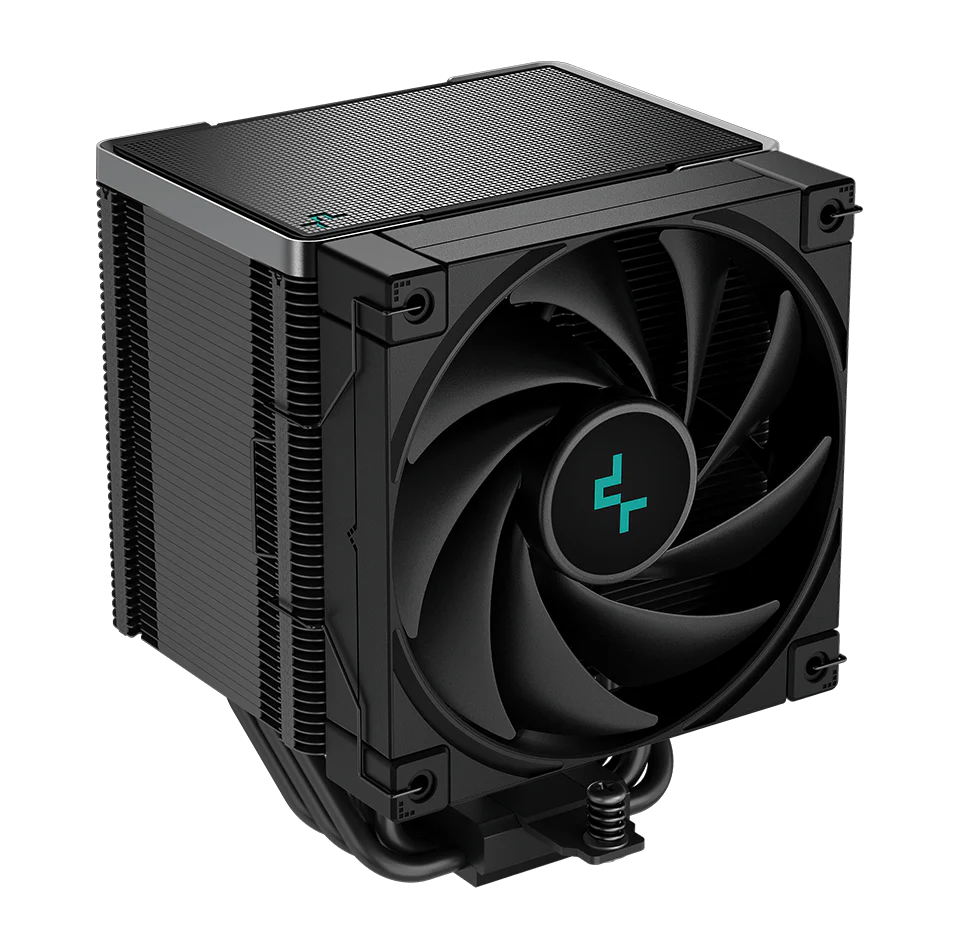 ZERO DARK Edition
Now featured in a full blackout edition that coats the every surface on the heat sink, heat pipe, and mounting bracket in all-black for a dark midnight aesthetic that suits any setup.
Balanced Bidirectional Heat Pipe Technology
By optimizing the internal capillary structure and injecting a precise amount of liquid, our copper heat pipes achieve the best heat dissipation performance regardless of whether the cooler is in a vertical or horizontal case. This perfect ratio facilitates a highly efficient phase change throughout the heat pipe and achieves lower thermal resistance across a wide TDP range.
Full DRAM Compatibility
The angled offset heat pipe design offers clear access to your DIMM slots for better compatibility with tall heat spreaders and also shows off any RGB lighting. For quad-channel motherboards, the rear slots have a clearance of 45mm.
Cool,Quiet and Powerful
Achieve high-performance cooling with minimal noise levels thanks to the DEEPCOOL AK500 ZERO DARK included FK120 fan that maximizes airflow and static pressure when needed and intelligently ramps down for silent efficiency. An optional low-speed adapter and extra fan clips are included for upgrades
Simple and Secure
The provided all metal mounting bracket provides an easy installation process that ensures proper contact and equal pressure on both Intel and AMD platforms.
Product Dimensions
127×117×158 mm
Heatsink Dimensions
127×90×158 mm
Net Weight
1040 g
Heatpipe
Ø6 mm×5 pcs
Fan Dimensions
120×120×25 mm
Fan Speed
500~1850 RPM±10%
Fan Airflow
68.99 CFM
Fan Air Pressure
2.19 mmAq
Fan Noise
≤31.5 dB(A)
Fan Speed (with LSP)
500~1550 RPM±10%
Fan Airflow (with LSP)
52.24 CFM
Fan Air Pressure (with LSP)
1.2 mmAq
Fan Noise (with LSP)
≤25.9 dB(A)
Fan Connector
4-pin PWM
Bearing Type
Fluid Dynamic Bearing
Fan Rated Voltage
12 VDC
Fan Rated Current
0.12 A
Fan Power Consumption
1.44 W
Application For
Intel
LGA2066
2011-v3
2011
1700
1200
1151
1150
1155
AMD
AM5
AM4
Warranty
1 Year
Brand
DeepCool
Deepcool was founded with the mission of providing the best and personalized thermal solutions for customers around the world. Deepcool was first established 1996 with its headquarters in Beijing and factory facilities in Shen Zhen that produced coolers and cooling accessories for desktops and servers. In response to rapid advancements in the PC sector Deepcool further expanded into AIO liquid cooling products, chassis, and power supplies. We have built a global distribution network in about seventy countries, allowing end-users to purchase Deepcool products online or at the nearest local storefront. We have gained positive media exposure and coverage, and won awards from renowned professional websites and magazines like Tom's Hardware, Techpowerup, TweakTown, HEXUS, 3Dnews, Guru3d, and CHIP, steadily building a good reputation among general users, gamers, overclockers and modders. We are totally committed towards maintaining user satisfaction by accommodating ever-changing thermal needs while providing the most responsive and comprehensive services in the industry. Our slogan is for you to "Enjoy your cool life!" We adopted the name Deepcool since Deep Blue, a program running on an IBM supercomputer, achieved a stunning victory over Gary Kasparov, then world chess champion, in 1997. This milestone clearly demonstrated that computers have now become the most powerful tool available to the human race, and was the time when we first started our business in computer cooling solutions. We hope our products could be as effective as Deep Blue, and adopted the matching name of Deepcool to help achieve our goal. Why Deepcool?
Green & Eco-friendly
Ever since Deepcool was first established, we have been devoted to the global revolution in environmental conservation and green values. We have acquired the ISO 14000 Environmental Management System in the aspects of environmental conservation, energy saving and consumption reduction, and our entire portfolio is compliant with RoHS and WEEE directives.
Professionalism
Focus leads to professionalism. In Deepcool, we have dispensed with diversification solutions to fully commit ourselves to thermal dissipation and dedicates every single effort into R&D and manufacturing of the latest technologies in cooling, rather than diverse development.
Innovative Design
The Deepcool R&D Team is composed of the world's best and leading professionals from the US, Germany, China, and other countries, generating synergistic cross-cultural designs and innovations perfectly illustrated with our patented and state-of-the-art products.
High Quality
Deepcool has been qualified to the ISO 9000 Quality Management System specifications. We implement strict quality controls through IQC, FAI, IPQC, and OQC systems to build a solid reputation of excellent quality.
First Class Manufacturing
As a supplier of major players in the PC market such as Dell, Fujitsu, Siemens, and Osram, Deepcool is constantly upgrading our manufacturing assets and equipment and optimizing our process technologies to maintain our leading position in the thermal dissipation industry.