ASUS PROART X570-CREATOR WIFI AMD MOTHERBOARD WITH DDR4 SUPPORT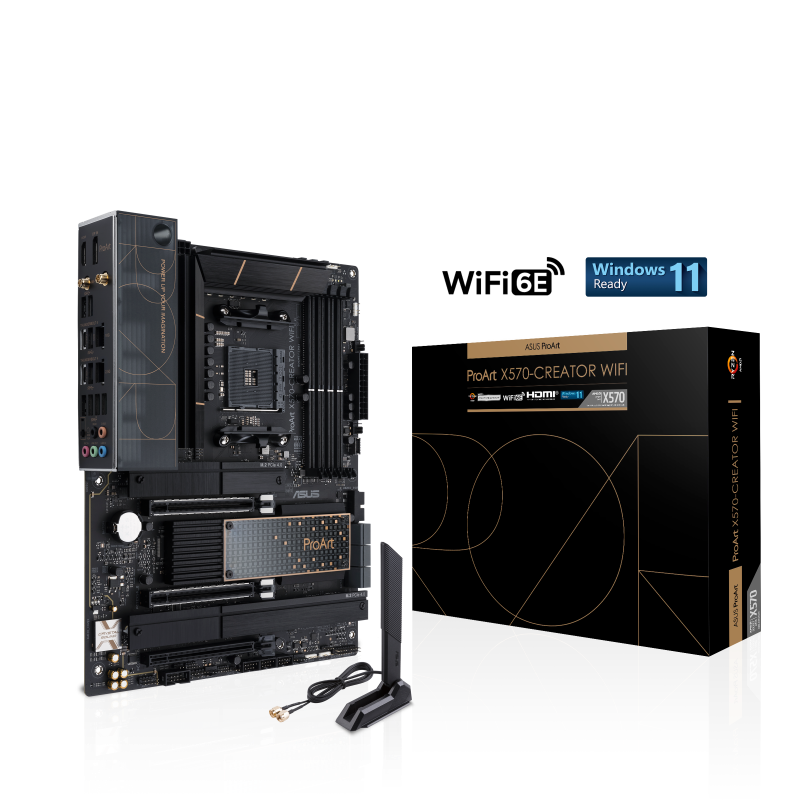 Performance to Create
ASUS PROART X570-CREATOR WIFI motherboard perfects the art of performance, empowering creativity and maximizing the computing power of the latest AMD Ryzen™ processors with powerful hardware and software, efficient cooling and lightning-fast connectivity, including Thunderbolt™ 4, 10 Gb and 2.5 Gb onboard Ethernet, and WiFi 6E.
Extensive Connectivity
ASUS PROART X570-CREATOR WIFI A comprehensive array of powerful I/O ports — including two Thunderbolt™ 4 ports plus 10 Gb and 2.5 Gb Ethernet ports— enables quick data transfers and extensive storage options with flexible, hassle-free connectivity.
Two Onboard Thunderbolt™ 4 USB-C
Each Thunderbolt 4 port delivers up to 40 Gbps of bidirectional bandwidth for the latest high-speed devices and drives. Thunderbolt 4 also supports up to two external 4K displays and extends PCIe® bandwidth to up to 32 Gbps.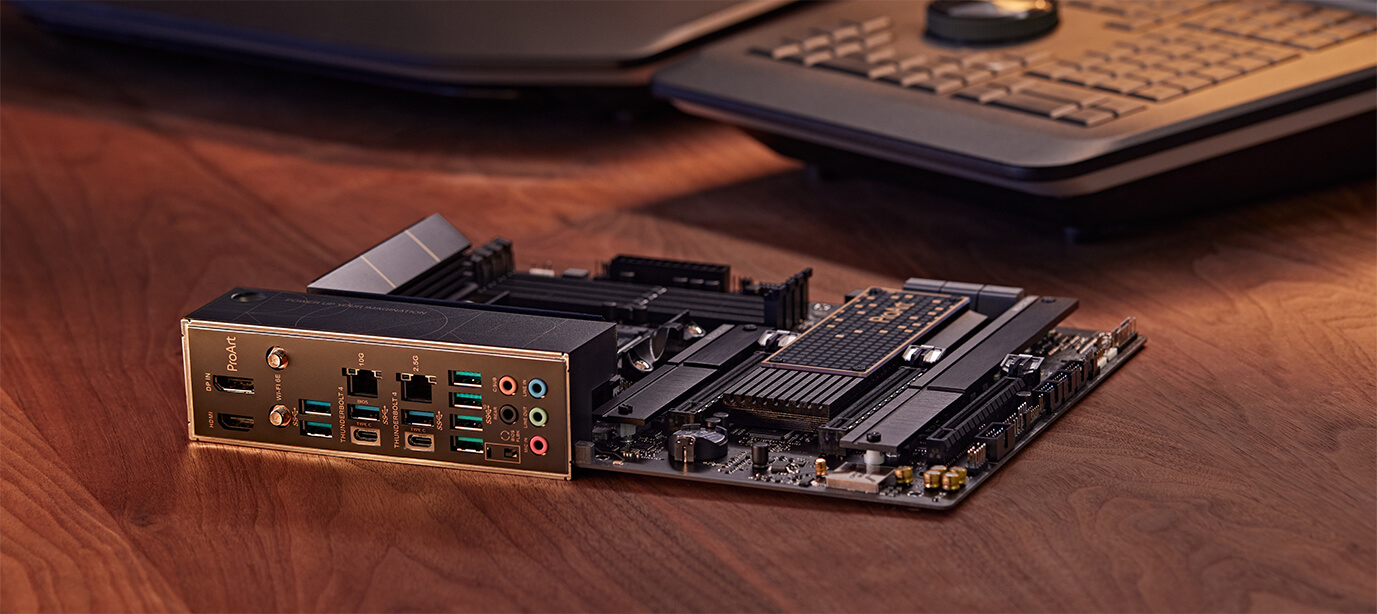 NETWORKING
WiFi 6E (Gig+)
ASUS PROART X570-CREATOR WIFI Onboard WiFi 6E technology takes advantage of the newly available radio spectrum in the 6 GHz band, providing up to three times the bandwidth of the 5 GHz band and up to seven 160 MHz bands to deliver ultrafast networking speeds along with improved capacity and better performance in dense wireless environments.
Marvell® AQtion 10 Gbps Ethernet
ASUS PROART X570-CREATOR WIFI is Designed to meet the demanding requirements of power users and content creators, 10 Gbps onboard Ethernet provides a new level of home networking. With up to 10 times the bandwidth of standard gigabit Ethernet, streaming uncompressed 4K UHD videos or performing system backups or transferring large files is now faster than ever before.
Intel® 2.5 Gb Ethernet
The Intel 2.5 Gb Ethernet (I225-V) port provides up to a 2.5 times improvement over standard 1 Gb Ethernet connections for faster data transfers and smooth high-res video streaming.
M.2 STORAGE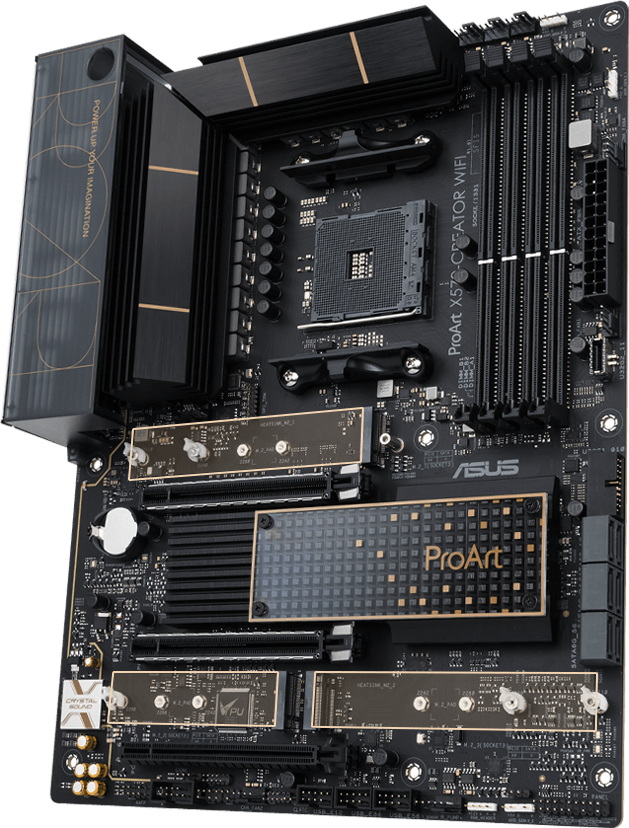 Ultrafast Transfer Speed
ASUS PROART X570-CREATOR WIFI comes with Three PCIe 4.0 M.2 slot support up to 22110 and provide NVMe® SSD RAID support for an incredible performance boost. Create a RAID configuration with up to two PCIe 4.0 storage devices to enjoy the fastest data transfer speeds on the AMD Ryzen 5000 and 3000 Series desktop processors.
M.2 Q-Latch
The innovative Q-Latch makes it easy to install or remove an M.2 SSD without the need for specific tools. The design employs a simple locking mechanism to secure the drive and neatly eliminate traditional screws.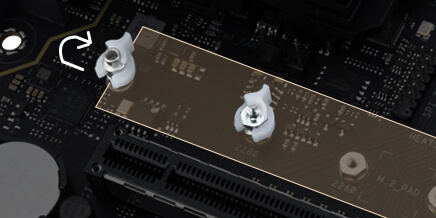 Unthrottled Performance
ASUS PROART X570-CREATOR WIFI boasts an optimized power design layout and the memory performance needed to handle the prodigious power of the latest AMD Ryzen processors, enabling the most demanding multithreaded tasks such as 3D or video rendering and software compiling.
Teamed Power Stages
14+2 power stages combine high-side and low-side MOSFETs and drivers into a single package, delivering the power and efficiency that the latest AMD Ryzen processors demand.
Digi+ Power Control
The ASUS Digi+ voltage-regulator module (VRM) is one of the finest in the industry and ensures ultra-smooth power delivery to the CPU.
ProCool II Power Connector
ASUS PROART X570-CREATOR WIFI ProCool socket is built to exacting specifications to ensure flush contact with the PSU power lines, enabling lower impedance and better heat dissipation.
Chokes & Capacitors
ASUS PROART X570-CREATOR WIFI Superior alloy chokes and durable capacitors are engineered to resist extreme temperatures, providing a higher level of performance than the industry standard.
Comprehensive Cooling Design
Maintaining system stability under heavy loads is of paramount importance, so ASUS PROART X570-CREATOR WIFI employs passive chipset cooling with large VRM and chipset heatsinks that strike the right balance between surface area and mass. Integrated premium components and multiple fan headers are also vital design elements that provide the best foundation for content creation systems.
Perfect for Content Creation
ProArt exclusive software utilities deliver intuitive system monitoring, audio and networking enhancements that enable a smoother workflow.
Industry-Leading Security
Advanced security management functions from ASUS Control Center Express protects the system and confidential data.
PRO Creator HUB
A user-friendly interface helps enhance workflows via a central system that allows monitoring and control of all connected ProArt Series products, including ASUS PROART X570-CREATOR WIFI motherboards and displays.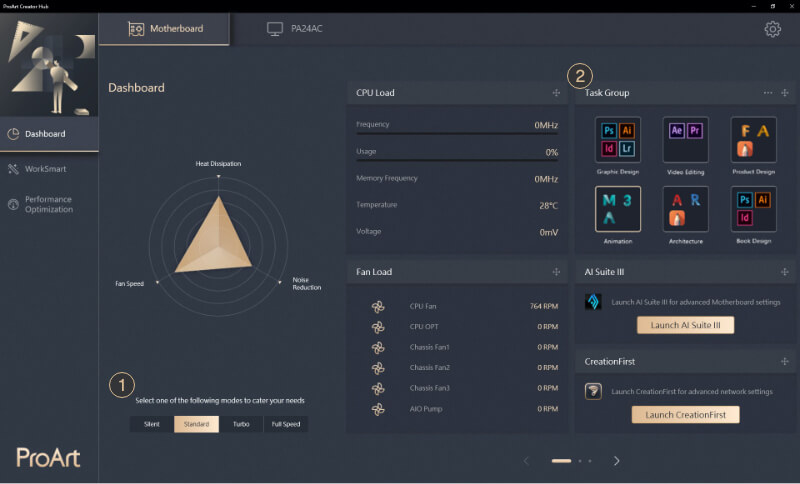 Fan Mode
Select the preferred fan setting to quickly configure the system's cooling performance.
Task Group
Applications that are frequently used together can be arranged into groups and launched with a single click.
TWO WAY AI NOISE CANCELATION
As working from home becomes the new normal, clear online communication is more critical than ever. Two-Way AI Noise Cancelation is an audio utility that leverages a massive deep-learning database to reduce background noise from the microphone* and incoming audio. Distracting keyboard clatter, mouse clicks and other ambient noises are smartly pared back so users can hear and be heard with crystal clarity.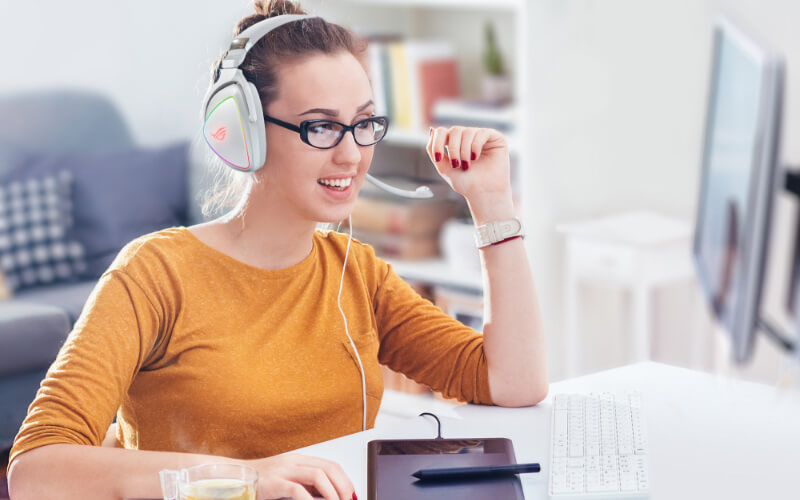 Trusted Stability
ASUS PROART X570-CREATOR WIFI is engineered and rigorously tested to offer superior quality, stability and compatibility to ensure that it empowers creativity for years to come.